An acting resume, often known as an actor's resume, is a document that describes your physical appearance and highlights your acting experience (TV, film, or theater). It should also include your headshot and the contact information for your agency.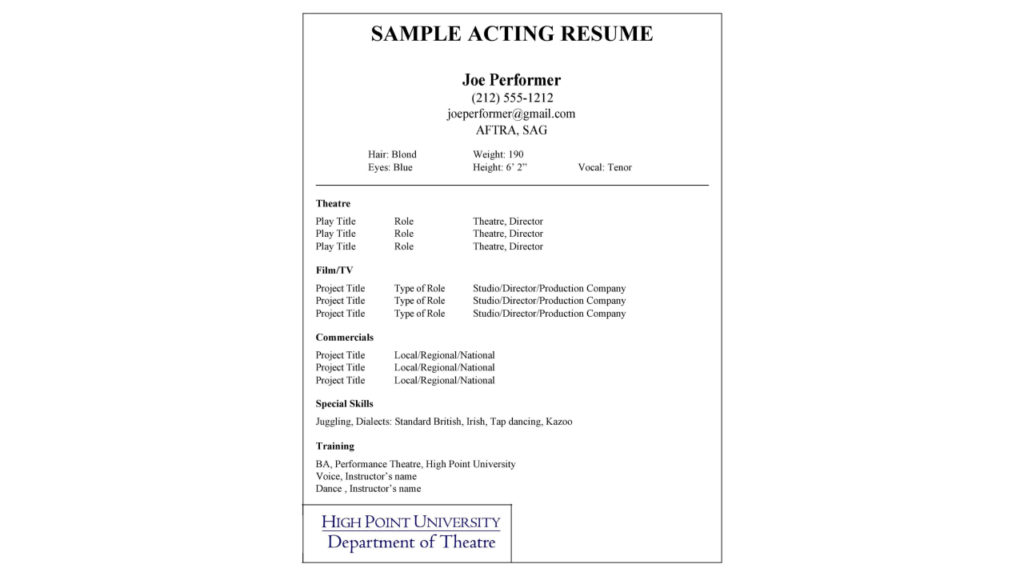 What is an Acting Resume?
A resume for actors seeking work in television, cinema, theater, or other acting media is called an acting resume. An acting résumé should be a single sheet of paper and usually comprises the actor's headshot.
A lousy acting résumé is like a monotonous soap opera that never makes it to the second season.
Strive to be the best at the résumé game. By making use of a standardized resume structure, such as the reverse-chronological format, you will be able to show your previous achievements in the best possible light. In addition, make sure your resume typefaces are clean and legible and that your content is not jammed: no one wants to go through a script that confuses their eyes. Finally, save it as a PDF file to be compatible with all devices.
Contents in an Acting Resume
Your CV is just as important as your appearance and abilities. Whether you are a novice or a seasoned actor, there are some principles to follow to create the most outstanding acting resume possible.
Your acting resume can include the following sections:
Contact Information

Contact Information for Your Agent

What Is Your Objective? 

Acting Credits

Educational Qualifications

Workshops and Training 

Skills

Awards and Citations

Supplementary References (links of past work, testimonials, reviews, etc.)

Your Headshot Photograph
Your resume should be eight inches by ten inches to achieve the ideal acting resume layout. Although it is attached to the back, it is the same as your headshot. Start removing the amateur credits as you get more experience. Professional credentials come first, followed by educational credits and community theater credits.
How to Make an Acting Resume Without Any Experience
Structure of an Acting Resume
We will go over everything you will need for each component of your professional acting resume in this section, starting at the top and working our way down to the bottom.
1. Personal Information
This is where you will provide the essentials, such as your contact information and biographical details. Use the checklist below to make a list of everything you can.
Name

Phone number

Email address (but not your home address)

Website

Agent's contact information

Height

Weight

Hairstyle

Eye color

Headshot

Vocal range, etc.
2. Credits
So, how do you mention performing roles on a resume? Unless you are just starting, the Credits section will include most of your resume information.

To make your resume look professional, follow the steps below:
What to Include?
If you are above 25, do not include credits from productions you worked on when you were under the age of 18. If you are under the age of 25, you can list roles you have played in the last 5-10 years, but not beyond that. It is perfectly acceptable to use characters from classes and workshops.
Alignment
In the left column, write the production's title, the title of your role in the middle, and the name of the director or theater group (whichever is more well-known) in the right column.
Categories
Typically, credits are divided into film/TV and theater. It is okay if you only have credits from one of these, such as theater, while you are first starting. Just make sure the categories are appropriately divided and that you do not include a type if you do not have any credits for it. ​
Miscellaneous Work
Including extra (background actor) work on your resume is not a wise idea. The more extra work you incorporate, the more likely a casting director will believe you specialize in something rather than speaking parts!
Characters
Include character names in the theater section, followed by "cast," "ensemble," and so on in parenthesis. When writing for film or television, it is better to avoid using character names entirely and instead relies on role descriptions.

Notable Celebrities
If you worked on a scene with a well-known actor, put their name in parenthesis next to the part. For example: (With Tom Cruise).
Voiceover Credits
If you do voiceover work, add a new section to your resume. You will list voiceover credits in the same three-column format as film and television credits.

Advertising Credits
Commercials should not be listed on your principal résumé. Please make a separate résumé for advertisements and send it to individuals only when they ask for it. This is the case because of potential conflicts of interest (for example, if you were the lead in a Coca-Cola commercial, PepsiCo would NOT want you to be in their commercial because people might think of Coca-Cola when they see you instead).


Start with Your Best Work
Put your most essential credits first and not production dates on your resume.
3. Education and Training
Formal acting training (if applicable), acting workshops, seminars, studio classes, master classes, or private coaching will all be listed in this area. In addition, special training which is not directly connected to acting, such as singing or stunt work, is also included:
Recognizable Names of Programme Directors, Teachers, and Educators.
Recognizable Names of Schools and Workshops.
Duration of Study.
Kind of Training.
There is no right or wrong way to mention your training, but make it as simple as possible for a casting director to see what you have done – especially if you do not have many credits.

4. Special Skills
Special abilities not only help you secure more gigs because they are distinctive and rare, but they also take up some of that dreadful white space on your CV.
Examples of Special Skills:
Special Talent
Dancing Talent 

Combat Skills

Accents and Dialects

Fitness and Health

Known Languages 

Musical Instruments 

Driver's License 

Acrobatic Talent

Sports/Games Skills

Guidelines for Your Acting Resume
It is Required That You Save Your Resume in PDF Format
Do not send Microsoft Word formats because different machines have different sizes and styles. What would be one page with perfect alignment on your computer will suddenly seem all jumbled (and occasionally even two pages) on someone else's. The alignment will always be precise in PDF format, no matter where you email your resume.
Easy to Read
Use professional fonts such as Times New Roman, Helvetica, Garamond, and Arial.
Headings Should Hold Some Weight
The individual sections of your resume, such as TV/Film, Theater, Training & Education, and so on, should be more significant and styled differently than the rest of the resume to make them stand out.
Use Black and White
As some casting directors utilize black-and-white printers, your section heads will not stand out if you use different colors. If you use colored typefaces on your CV, they will presume you are inexperienced and new.
Follow the Reverse-Chronological Format
Casting directors are used to seeing the reverse-chronological structure because it correctly places your most current school and job credits before your older experiences.
So, put your most recent acting credentials first in your acting resume, so casting directors may readily follow your experience.
It Must Be One Page in Length and Clipped to Suit the Back of Your 8" X 10" Headshot
You will center your résumé on the back of your headshot and staple it at all four corners. The excess paper can then be trimmed away using scissors. However, as your CV will change every time you book a new role, do not print it immediately on the back of your headshots. To understand how to connect your headshot to your CV, watch the video below:
How to Staple Your Headshot and Resume
Conclusion
Putting together an acting resume is a significant task, but it does not have to be complicated. Go through each part until you have a whole page of material that will assist you in landing your future job. Whether you are just starting out or well into your acting career, make sure your acting resume accurately reflects everything about you–experience, education, and skills–that could make you the ideal candidate for that next big job.
It will become second nature as you become more familiar with what to include in your acting resume and how to format it. Soon, it will be yet another tool that you can use as you excel in your acting career.