Many filmmakers begin their careers by obtaining film production degrees to gain knowledge of the filmmaking process. A film production degree typically includes both classroom instruction and hands-on learning opportunities. The courses may cover the audio and visual media principles, pop culture studies, animation, sound design, or other cinema-related studies.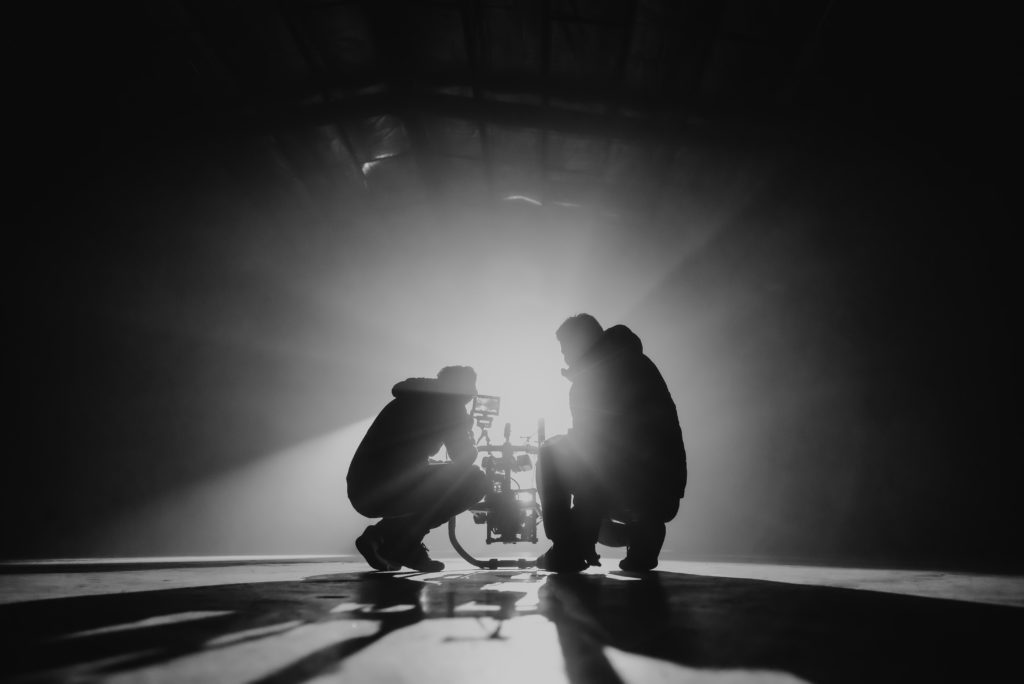 Bachelor of Arts in Film and Video Production
A film production degree, also known as a bachelor's degree in film and video production, should prepare a student to carry out various types of professional duties on a film set. Examples of important duties they learn how to do include:
Editing footage
Working with crew members to coordinate tasks
Mounting cameras
Setting up technical equipment
Operating cameras and sound recording equipment
Using proper lighting techniques
Directing actors and others involved in the filmmaking process
Students in film and video production educational programs learn a mix of technical and non-technical skills and knowledge, including:
Research
Reading and analyzing films
Writing scripts
Most students will complete their programs with knowledge in:
Film editing
Motion picture production
Audio production
Visual interpretation
Popular Career Options
Earning a film production degree can open doors to several career opportunities. Most graduates choose to pursue careers on film sets, working as:
Key grips
Directors
Producers
Cinematographers
Camera operators
Boom or other equipment operators
Product assistants
Others may choose to focus on the post-production phase of filmmaking, working in:
Editing
Sound production
Visual effects
Animation
In addition to working in film, those with production degrees can also pursue jobs in television and advertising, as these fields rely on video production as well.
Continuing Education Information
After completing a bachelor's degree in film production, some people choose to continue their education and earn a master's degree. Most film production graduate programs are two-year, full-time programs that focus on the specific elements of filmmaking, such as:
Sound design
Editing
Directing
Cinematography
Screenwriting
If you choose to become a member of a professional organization or association, you may have to fulfill certain continuing education requirements to maintain your membership. Examples of continuing education opportunities include workshops, trainings, and online courses that focus on particular areas of filmmaking.
Employment Outlook and Salary Information
According to data from the U.S. Bureau of Labor Statistics, work opportunities for film directors and producers should increase by about 10% between 2019 and 2029. The average salary for a producer or director is $74,420 per year. For film and video editors, opportunities are set to increase by 18% between 2019 and 2029.
Bachelor Programs in Film Production
A number of educational institutions located across the globe offer film production programs for those who want to further their education and gain the skills needed to bring their ideas to life on the big screen. Some of the top-rated film programs are available at the following schools, listed alphabetically:
American University (Washington, DC)
Amity University: Dubai (Dubai, United Arab Emirates)
Andrzej Frycz Modrzewski Krakow University (Krakow, Poland)
Arizona State University-Tempe (Tempe, AZ)
Art Center College of Design (Pasadena, CA)
The Art Institutes (FL, TX, GA, VA campuses)
Backstage Academy (Wakefield, United Kingdom)
Beijing Film Academy (Beijing, China)
Biola University (Biola, CA)
Boston University (Boston, MA)

California Institute of the Arts (Santa Clarita, CA)

California State University-Long Beach (Long Beach, CA)
California State University-Northridge (Northridge, CA)
California State University-Sacramento (Sacramento, CA)
Calvin University (Grand Rapids, MI)
Carleton College (Northfield, MN)
Chapman University (Orange, CA)
Clayton State University (Morrow, GA)
CLCF Conservatoire Libre du Cinéma Français (Île-de-France, France)
Cleveland State University (Cleveland, OH)
Cogswell Polytechnical College (San Jose, CA)
Colorado Film School (Denver, CO)
Columbia University School of the Arts (New York, NY)
Compass College of Cinematic Arts (Grand Rapid, MI)
Cornish College of the Arts (Seattle, WA)
CUNY Brooklyn College (Brooklyn, NY)
CUNY City College (New York, NY)
CUNY Hunter College (New York, NY)
DEKRA Hochschule für Medien (Berlin, Germany)
DePaul University (Chicago, IL)
DigiPen Institute of Technology (Redmond, WA)
Eastern Michigan University (Ypsilanti, MI)
Eastern New Mexico University (Portales, NM)
EICAR (Paris, France)
Emerson Visual and Media Arts School (Boston, MA)
Emory University (Atlanta, GA)
Fairfield University (Fairfield, CT)
Farleigh Dickinson University-Florham Campus (Madison, NJ)
Feirstein Graduate School of Cinema (Brooklyn, NY)
The Film and TV School of the Academy of Performing Arts (Prague, Italy)
Florida State University (Tallahassee, FL)
Full Sail University (Winter Park, FL)
George Mason University (Fairfax, VA)
The Institute of Contemporary Music Performance (London, United Kingdom)
Inter American University of Puerto Rico (Bayamón, Puerto Rico)
Ithaca College (Ithaca, NY)
La Femis (Paris, France)
Laguna College of Art & Design (Laguna Beach, CA)
Lipscomb University (Nashville, TN)
Los Angeles Film School (Los Angeles, CA)
Loyola Marymount University (Los Angeles, CA)
Mahidol University International College (Bangkok, Thailand)
Massey University (Wellington, New Zealand)
Messiah College (Mechanicsburg, PA)
Miami Dade College (Miami, FL)
Middle Tennessee State University College of Media and Entertainment (Murfreesboro, TN)
Middlesex University Dubai (Dubai, United Arab Emirates)
Minneapolis College of Art & Design (Minneapolis, MN)
Montclair State University (Montclair, NJ)
The National Film and Television School (Beaconsfield, England)
New Mexico State University (Las Cruces, NM)
New York Film Academy (New York, NY)
New York University (New York, NY)
Northern Michigan University (Marquette, MI)
Northwestern University (Evanston, IL)
Norwich University of the Arts (Norwich, United Kingdom)
Pace University (New York, NY)
Pennsylvania State University (University Park, PA)
Plymouth College of Art (Plymouth, United Kingdom)
The Polish National Film, Television and Theater School (Lodz, Poland)
Pratt Institute-Main (New York, NY)
Pulse College (Grand Canal Dock, Ireland)
Quinnipiac University (Hamden, CT)

Rhode Island School of Design (Providence, RI)
Rochester Institute of Technology (Rochester, NY)
Rutgers University (New Brunswick, NJ)
SAE Institute Berlin (Berlin, Germany)
San Francisco State University (San Francisco, CA)
Santa Fe University of Art and Design (Santa Fe, NM)
Savannah College of Art and Design (Savannah, GA)
School of the Art Institute of Chicago (Chicago, IL)
School of Visual Arts New York (New York, NY)
Southern Illinois University (Carbondale, IL)
Southern Methodist University (Dallas, TX)
St. Cloud State University (St. Cloud, MN)
Stanford University (Stanford, CA)
University of California-Santa Barbara (Santa Barbara, CA)
University Centre Grimsby (Grimsby, United Kingdom)
University of Central Arkansas (Conway, AR)
University of Central Florida (Orlando, FL)
University of Colorado (Denver, CO)
University for the Creative Arts (Farnham, United Kingdom)
University of Greenwich (London, United Kingdom)
University of Gloucestershire (Cheltenham, United Kingdom)
University of Lincoln (Lincoln, United Kingdom)
University of North Carolina School of the Arts (Winston-Salem, NC)
University of North Carolina Wilmington (Wilmington, NC)
University of Regina (Regina, Canada)
University of Southern California (Los Angeles, CA)
What Kind of Film Degree Should You Get?
Film programs cover a range of topics and coursework, although most provide an overall approach to filmmaking for all areas of the set. A comprehensive bachelor's degree program can teach you more about the process of filmmaking, while a more specialized program or advanced program may go into more depth on specific topics and experiences.
What Are the Requirements for a Degree in Film?
Some film schools require students to submit portfolios of their work, while others accept newcomers to the industry who don't have experience. The requirements for a film program depend on where you're applying and what you will study during your educational experience.
You can learn more about earning a film production degree and how you can improve your skills by applying to the Nashville Film Institute here.