TikTok influencers create and share fantastic viral videos by holding an account in TikTok. As a result, they get more followers who fall under their influence. In addition, some companies and brands pay TikTok influencers from $200 to $20,000 per branded video depending on their number of followers, types of videos, and engagement rates.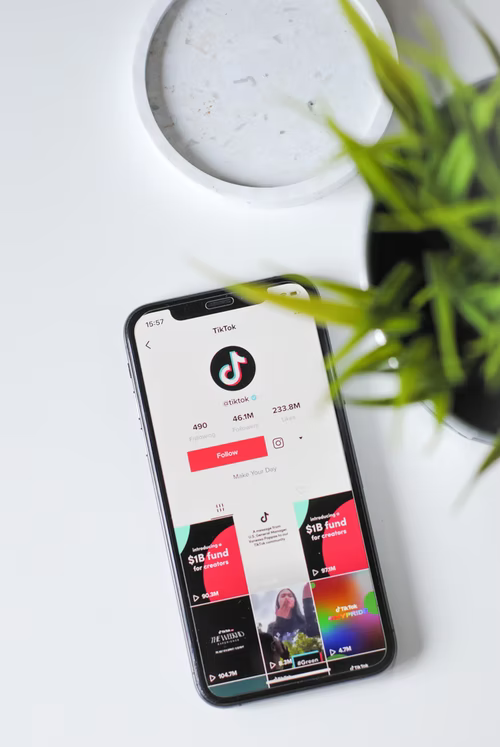 What is TikTok?
TikTok is a video-based social networking platform that allows users to create and share shorter videos spanning 15 seconds to 60 seconds.
The TikTok app originates from China and is also called "Douyin." Since its inception in 2018, TikTok has attracted over 900 million active monthly users. As a result, there are a lot of creators on TikTok who monetize from their videos. For example, when a video is uploaded to TikTok, users are shown in between viral videos. Its algorithm then analyzes the user's video consumption to get the number of hours watched, likes, and shares. This data is then used to generate similar content for an individual user and circulate popular videos to more people. Thereby, your video becomes viral quickly as this platform feeds your content to new audiences. This way, you can quickly grow your follower base within a short period.
How to Become a TikTok Influencer?
Being an entertainment medium, TikTok helps you monetize your video content and generate revenue from it. The primary source of income for a TikTok influencer comes through ads and sponsorships. For this reason, you need to be aware of specific steps to become an influencer on this platform and earn money. They include:
1. Pick Your Niche
The opening move to become a TikTok influencer is finding and isolating your area of interest. Picking a passionate domain ensures your research and develops a good mastery over your chosen niche. This lays the foundation for you to create and generate excellent content regularly. Further, a certain level of expertise in the related domain helps you accumulate more followers. If you answer positively for the below-mentioned points, choose the field without hesitation.
Will you create content on the topic for the long term?

Does your domain consist of things that you enjoy doing without getting paid?

Do you strive to resolve issues for other people predominantly?

Do you master a skill that finds a solution for others' challenges?
Additionally, consider the most popular domains listed here to proceed:
Beauty

Travel

Motherhood

Food

Fashion

Fitness

Comedy

Memes

Music and Dance

Finance

Gaming

Home Décor

Entrepreneurship

Love and Relationships

Haircare

Family and Home
2. Create and Set Up a Unique TikTok Profile
TikTok offers accounts for both brands and creators. However, an influencer will require a creator account, while a brand requires a business account. Once you create an appropriate account, you need to set you your profile which requires you to fill in some details such as:
Bio

Profile photo

Profile video
Uniquely adding the above details leaves an everlasting impression on your followers and defines your personality.
3. Know Your Audience
You need to post unique content to attract your audience. This compels your followers to follow you. However, even if not, you can still choose to present it in an attractive manner suitable for your audience. Firstly, you need to understand your audience to build a strong content strategy. For this purpose, analyze your follower base and search for the post that received the maximum engagement. This area is where you need to create more content.
4. Analyze Your Competitors
Knowledge of your competitors gives you an insight into the current market needs. For this purpose, find the influencers who work with similar demographic interests. Analyze the content they post to:
Identify the type of content they post.
Find the posts with the maximum likes and shares.
Find the missing information or links in their posts.
Draw inspiration from the above observations and create your unique content or add your style to improvise the existing content.
5. Build and Strengthen Your Content Strategy
Once you plan your content strategy, you must also designate a time for your video uploads. This way, you can keep your audience informed on when and what content to expect.
Begin with a trial-and-error method to post random content regularly.

Later, stick to the theme of the content that receives maximum engagement.

Ensure your content is original and infuse innovative ideas to go viral and engage your audiences. Additionally, add some content around your personal lives to gain a humane touch with your followers. This also aids in breaking the monotonicity from developing the same type of content.

Integrate trending hashtags into your posts to improve visibility. You can even search for popular hashtags on the app's discover page to enhance the value of your posts and reach the right audience.

Keep up with the evolving trends and adapt your content with some fun to reach new audiences. Similarly, integrate trending songs in your videos to get people for your section.
6. Engage Your Audience
It is vital to engage your audiences after you post your content. You can do this by:
Replying to your followers through the comments section and creating a two-way conversation.

TikTok also allows creators to comment on a video along with a text.
Apart from these traditional ideas, you may even plan to:
7. Host an "Ask me anything" event
These sessions offer the advantage of engaging your audience and prompting them to ask any questions related to your personal or professional life. As a result, you can have an emotional connection with your followers.  Additionally, you can establish your mastery over your niche.
8. Announce a giveaway/ contest
You will reach out to more people through these giveaways and contests. As a result, it adds them to your follower base. Additionally, you can effectively promote other influencers with whom you collaborate.
A giveaway is when you reward your followers for the likes, shares, and comments they give to your post. Additionally, you can let your followers tag their friends in the announcement.
A contest is very similar to a giveaway, with the difference that your followers have to upload specific content or use your hashtag to win the same.
9. Promote Your Videos
Once you are ready with your videos, you have to promote them through other social media platforms. Divert your audiences from your blog, Instagram, and Facebook accounts through a link to your TikTok profile. Additionally, you can use TikTok to promote your other social media profiles to drive your audience.
10. Network With Other TikTokers
Maintaining a friendly relationship with other TikTokers helps you to look at them as someone more than mere competition. Additionally, you may even get collaboration opportunities due to your bond. Therefore, engage with other TikTokers through your comments, messages, or likes.
How to Earn as a TikTok Influencer?
1. The TikTok Creator Fund Program
The TikTok app runs a partnership program called TikTok Creator Fund that pays eligible TikTokers for their videos. To be a part of this program, apply to the TikTok Creator Fund in your account settings. The eligibility requirements for this program include:
It would help if you were based in the US, UK, France, Germany, Spain, or Italy.

You must be at least 18 years old.

You must have at least 10,000 followers.

You must have at least 10,000 video views in the last 30 days.

You must have an account that fits with the TikTok Community Guidelines and Terms of Service.
2. Collaborate with Brands
Once you establish yourself as an influencer, you need to look for brand collaborations. For this purpose, firstly, communicate your interest in collaborating with the brands to attract potential clients. Alternatively, you can do your outreach and connect with relevant brands. Additionally, you can use influencer platforms that connect the influencers with the brand. This way, you can network with brands and project yourself as an influencer.
How to Work with Brands?
Enlisted here are some steps to reach out to a brand for collaboration.
List out the brands in your niche that you want to work with.

Downsize the list and filter the brands that match your brand.

Find the control head for influencer marketing for each brand and get their contact.

Pitch the brands with your email.
3. Donations
As a TikTok creator, you can:
Collect donations from your engaged viewers while

Livestreaming

. Additionally, you can earn virtual gifts that have a monetary value.

Every TikTok user can use their profile to purchase gifts and coins whose prices are listed at the purchase point. Once purchased, these gifts and coins will be credited to your account.

Additionally, TikTok users can offer gifts to their favorite creators by clicking on the

Give Gift

button on the creator's content.
4. Grow and Sell Accounts
Another way to make money on TikTok is to grow and sell niche accounts. Niche accounts concentrate on a particular industry and must carry high-quality content. In addition, these accounts must have generated followers with a reasonable engagement rate. A niche account with the above characteristics can be sold quickly and earned.
5. Run an Influencer Agency
Influencer agencies help brands to connect with the best influencers in their niche. Therefore, you can execute, strategize and manage influencer campaigns and conduct influencer campaigns for brands to make money.
6. Publish Sponsored Posts
One of the most popular ways to make money from TikTok is through sponsored posts. As an influencer, you can sponsor posts that contain your product recommendation of a specific brand. In return, these brands pay you for promoting their products online. Sponsored posts can be designed in different ways as:
A single or multiple product descriptions

Product review

Informational posts

Feature posts and tags
These posts are profitable when you have a more significant number of followers.

7. Sell Your Merchandise
Alternatively, you can promote your line of products and sell them to earn money. For this purpose, you have to start small to ensure you reap the maximum benefits.
How Much Can You Make from TikTok?
Generally, TikTok Influencers earn between $200 and $20,000 per sponsored post on their videos with over 100,000 followers. The income from TikTok changes depending on your product, engagement rate, and a number of followers.
Videos
How To Become A TikTok Influencer? (TikTok FAMOUS!)
How to Use Authenticity and Become a TikTok Influencer?
Make Money On TikTok | TikTok INFLUENCER edition!
Conclusion
As a TikTok influencer, you need to create quality content to improve the number of video views. Additionally, how much you engage with your viewers matters the most as it increases the followers and attracts the brands.