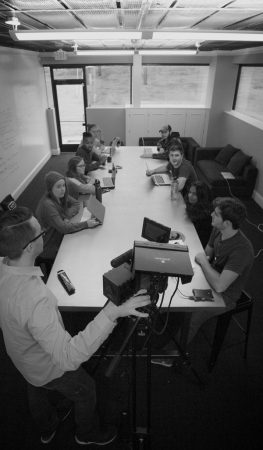 Nashville Film Institute Program Director, Michael Tabb, is heading up an entirely new initiative for NFI graduates and current students in the form of the Nashville Film Institute Writers' Room.
The Writers' Room gives those who want to go beyond the core writing curriculum in NFI's Cinema Production Program the opportunity to meet, expand their writing skills and portfolio.
This extra-curricular workshop is open to any NFI student or alumni who have completed the Screenwriting 1 class, and has a strong desire to create episodic programing for television and streaming media. It meets twice a month (Fridays), is free to attend and has no grades, but there WILL be work to be done. Those who miss meetings or don't contribute to the NFI Writers' Room will be dropped from the group.
If you're an NFI alumni and would like to take part, contact NFI to learn how to submit your application: 877-627-3456